Welcome to Heritage Outfitters! We buy & sell quality vintage goods. From tools and hardware to housewares and advertising our inventory is constantly evolving to feature our favorite finds that have stood the test of time.
Shipped with Care

"This item was packaged extremely well. I was impressed with the care the seller spent. Also they must have sent it immediately because it shipped right away. Very nice. Obviously this seller has a work ethic and cares."
-Chris J.

"Five Stars!! Very happy with the quality. Will be framing and hanging on the wall in my shop. Easy to read. Exactly what I was looking for."
-Linda

"This shirt is amazing! Great fit and love the shirt quality/feel. Amazing work! Fast shipping!"
-Brooke

"My order was shipped in a matter of minutes. It arrived quickly and in perfect condition. The printing and paper are high quality. It's really a beautiful piece!"
-Jacob

"Excellent quality and very good design. A very subtle and simple gift. Met all of my expectations. I highly recommend."
-Vanessa

"A really nice addition to my shop wall. Just ordered a wood frame for it to be displayed in. Very nicely printed on a heavy weight paperstock. Very easy to read."
-Brian
Speedy Delivery

"Thank you for your speedy delivery!! We recently went to Kennedy Space Center and my sons gonna love this hat!!"
-Callista
New in the shop!
Kraken Leather Coasters
Our premium leather octopus coasters are the epitome of elegance and functionality. Crafted with meticulous attention to detail, these coasters are the perfect addition to your home or office decor. Each coaster is handmade using the finest quality leather, ensuring durability and longevity. The luxurious texture and rich tones of the leather add a touch of sophistication to any tabletop or surface. Made 100% in the USA.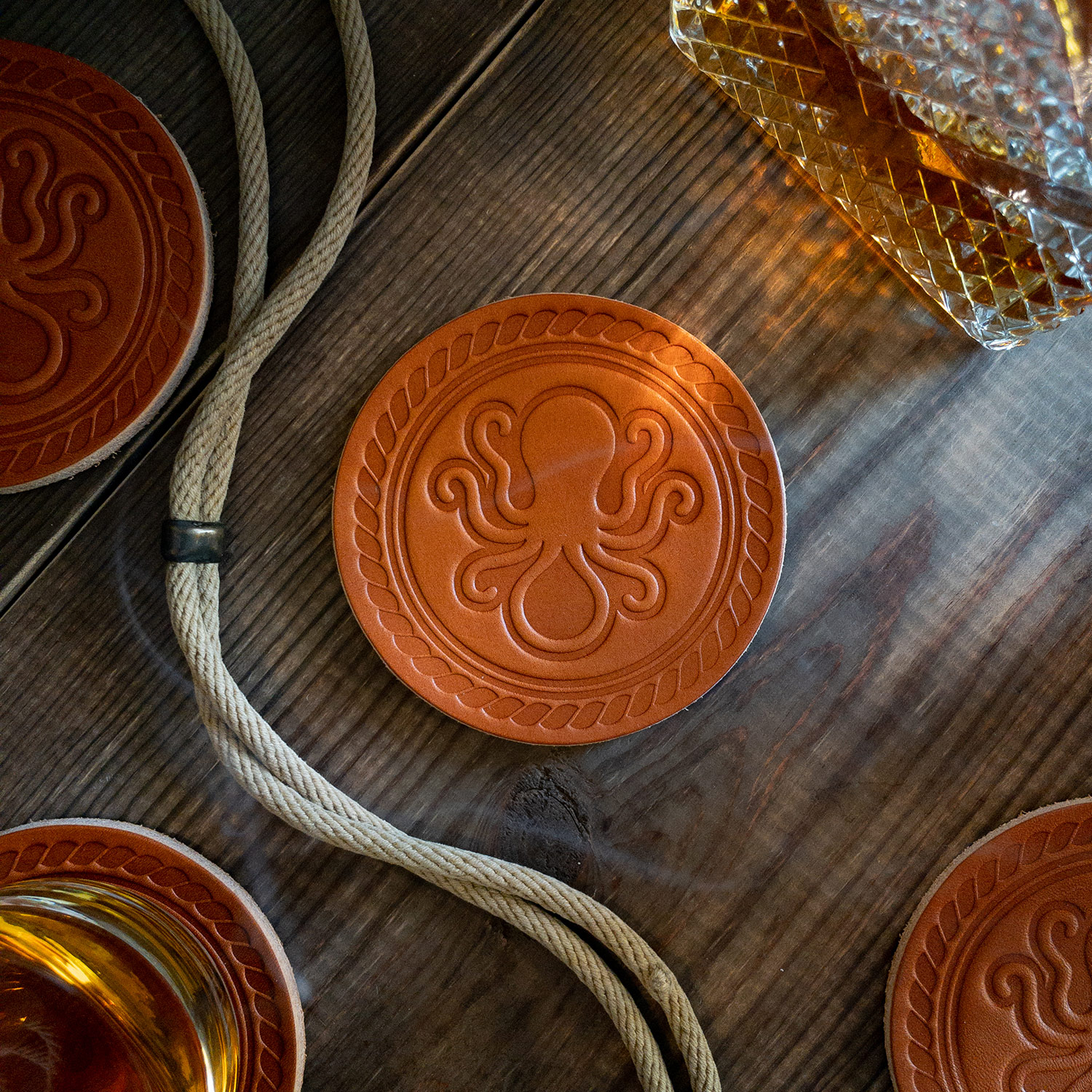 "It is not the honor that you take with you, but the heritage you leave behind."
- Branch Rickey